The COVID-19 pandemic has changed millions of lives around the world – in the way people go about their day to day business, how they interact with others, and what recreational activities they can safely enjoy. One of the biggest changes that has occurred because of the pandemic is the way people work. Many companies have begun to allow their employees the opportunity to work from home in order to keep them safe. In many cases, this change will be permanent, as technology is allowing for effective business practices to be executed right from the comfort of the employee's home.
However, this is a huge change for many employees. Most people are used to working in a structured environment that going into the office brings them. They have daily routines, tasks, and especially daily eating habits that they have incorporated into their ordinary routine; but when that routine no longer exists, the employee finds themselves having to adjust to the new home work environment. One of the biggest adjustments is in their daily eating schedule, and one of the biggest challenges that many new work-from-home employees face is how to stop eating so many snacks. Thousands are finding the bathroom scale inching up with greater weight gains than some have ever experienced before.
In an attempt to help you curb those extra calories, we have some suggestions to get that snacking under control.
Plan Your Meals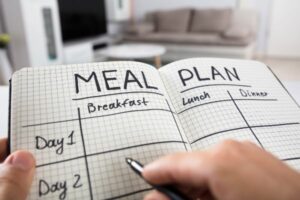 When you were working in an office, you had a daily routine, and with that, a time for eating breakfast, lunch, and dinner. The first thing you should do to keep yourself on track is to decide on a specific time to eat each of these meals and stick to it. By not eating the same time each day, you are throwing off your body's natural digestive rhythms. By eating at specific times throughout the day, your body stays in sync and you will be less likely to snack.
Another great idea is to plan your meals ahead of time. This way, you aren't staring blankly into your refrigerator, trying to decide what to eat – and then just decide to grab an easy snack instead. Many people cook their meals ahead of time and store them so that they are easy to grab and microwave. Some even take one day to cook for the entire week. That way, they have plenty of nutritious choices when mealtime rolls around.
Stay Hydrated
Having a glass of water, tea, or your favorite healthy beverage next to you while you work will help to keep your hunger down between meals. Staying hydrated has numerous health benefits, and continuously sipping on a healthy beverage will help to keep you feeling full and lessens your urge to rummage through the pantry. Notice that we specifically say "healthy beverage" here. Drinking sugary drinks and sodas all day will only add to the pounds you are trying to avoid.
Break Up the Day
One of the easiest routines to fall into is to snack out of sheer boredom. When you're working from home, you may be tempted to grab a bag of chips and just munch on them as you read through a mundane memo or perform some other less-than-exciting task. Instead, try breaking up your day by going for a walk or doing some healthy stretching exercises. Even better, have a predetermined schedule of breaks that you plan on taking throughout the day, and then take them. This will help to break up the monotony and make you less likely to snack.
Have Healthy Snacks Prepared – Just in Case
Of course, no plan is fool-proof, so it's a good idea to prepare some healthy snacks ahead of time, just in case. If you have something healthy that's easy to grab – like maybe hummus and dipping vegetables – then you are less likely to snag a convenient bag of chips. Also, be sure that your healthy snacks are filling. Eating a high carb snack like popcorn will digest quickly and have you craving another snack in short order. By creating higher protein snacks, you will stay satisfied longer.
Brain Body Health – Your Wellness Partner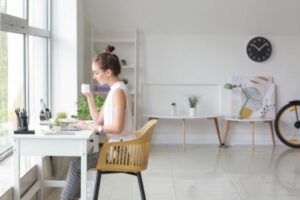 We at Brain Body Health understand all of the challenges you are going through during the COVID-19 pandemic – we've had to make quite a lot of adjustments ourselves. But even with all of these changes in lifestyle, your health should always be of utmost importance. We believe a strong body and strong mind are the keys to overall wellness in our lives, and we want to be your partner in helping you maintain a healthy lifestyle – even when the snacking monster comes knocking at your door.
This is why we provide you with such products as our
CBD Tinctures
and
CBD Gummies
. Both of these products deliver long-lasting CBD goodness to help your brain stay sharp and focused, even through the long (and sometimes tedious) hours of working at home.
Of course, with the COVID-19 pandemic being a daily concern, most of us are acutely aware of the need to maintain a healthy immune system. This is why part of our extensive line of premium products includes our
Immune Support Capsules
. These capsules contain natural supplements and vitamins that are known to give your immune system the added support it needs during these unprecedented times.
We at Brain Body Health want to be your wellness partner now and into the future. Our focus is on you, our beloved customers, and we want to do everything we can to keep you healthy, no matter what life (or a pandemic) throws at you. You can order any of our all-natural CBD products and supplements
online
or give us a call at (317) 973-5097. If you have any questions, we'd be excited to answer those, too. You can shoot us an email at
support@getbrainbodyhealth.flywheelsites.com
or use our
online contact form
!
We look forward to hearing from you soon!