Sleep is crucial for our brains and bodies to recharge. Lack of sleep can significantly affect our quality of life and leave us feeling overwhelmed,  frustrated, and without energy, but its consequences go beyond simple physical sensations. Sleep deprivation can increase the risk of developing type 2 diabetes and heart disease, increase our blood pressure and cause numerous health issues. In contrast, A good night's sleep helps our brain detox, recharge, and reorganize itself, so even a single wakeful night can throw our mind and body off balance leaving us susceptible to various diseases.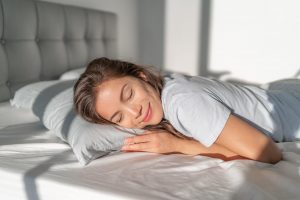 At Brain Body Health, we have created a Sleep Formula to help achieve your optimal night's sleep and wake up refreshed. Each softgel contains our exceptional, US-grown, organic, hemp-derived CBD and CBN oil with melatonin. Working synergistically together they:
Regulate Your Sleep-Wake Cycle

Help You Get a Better Quality Sleep

Are Safe to Use Daily

Are Easy to Take  

Are Made of All-natural Ingredients
You are not alone. Sleep is crucial to our health and well-being; millions of people in the U.S. suffer from sleep disorders, most commonly from insomnia. You may not even realize how sleep deprivation affects your mental and physical health, but here are some common symptoms that may indicate a sleep disorder.
Feeling tired after waking up

Lack of energy throughout the day

Mood changes

Irritability

Poor concentration 

Inability to stay focused

Loss of motivation
And more.
CBD + CBN + Melatonin – The Formula for a Better Night's Sleep
You may be surprised to know that many people around us experience sleeplessness regardless of their lifestyle habits, social standing, or occupation, impacting every aspect of their lives. We, at Brain Body Health, aren't an exception – we've dealt with sleepless nights too until we discovered this CBD, CBN, and melatonin Sleep Formula – it worked. Once you get on the other, the restful side of the fence, you'll never want to go back to constant fatigue, lack of energy, and less productivity. 
Some of the benefits we've experienced after including the CBD + CBN + Melatonin formula in our evening routine includes:
Mood boost

Improved memory

Reduced stress 

Increased productivity

Better concentration

Stronger immune system
At Brain Body Health, we are excited to share the formula that worked for us with you, our customers, so you can achieve better rest too and improve your quality of life. Our nano sleep formula softgels are quickly absorbed,  easy to swallow, and can easily become part of your evening routine, allowing you to wake up every morning refreshed, ready to see what the day may bring.
Our Sleep Formula is a product you can use safely. It combines three excellent ingredients to overcome sleeplessness in an all-natural way: our CBD Softgels with Melatonin and CBN will help you get the rest you deserve.
Once a well-kept secret, the endocannabinoid system (ECS) is something you most likely haven't learned about in your biology textbook. However, it turns out to be one of the most crucial systems in the human body regulating many bodily functions. In short, it is somewhat responsible for helping your body stay in balance (homeostasis) when it is under stress. It works by the interaction of endocannabinoids –signaling molecules, with ECS receptors CB1 and CB2. Cannabinoids in cannabis plants are like human endocannabinoids. When consumed, they can supply the endocannabinoid system, interact with your body's receptors, and play a role in its functioning. 
CBD products on the market today feature cannabidiol and other cannabinoids derived from hemp, not marijuana. Derivatives of hemp that contain less than .3% THC are legal in the United States, whereas derivatives of marijuana are not federally legal. 
Put simply, hemp-derived CBD is:
Legal in the United States, and has been since 2018.

Non-psychoactive because products can contain a maximum of .3% THC, making them unable to bind to receptors that may trigger any euphoric side effects.

Derived entirely from the hemp plant, so it is plant-based and holistic in nature.

Not derived from marijuana.
CBN, short for cannabinol, is a minor cannabinoid in the cannabis plant. It is the primary product of THC degradation and decarboxylation — a chemical reaction converting other cannabinoids, such as CBD and THC, into CBN – a cannabis compound which is:
Non-intoxicating

Mildly-psychoactive cannabinoid 

Similar to CBD in terms of activating the endocannabinoid receptors.

Legal for purchase and consumption in the US per the 2018 Farm Bill.
Melatonin is a sleep hormone crucial to our sleep-wake cycle. Many people are deficient in melatonin due to certain health conditions or lifestyle habits. Melatonin supplements are safe to consume and will positively impact your sleep cycle. It'll help to fall asleep easier and have a more restful night.
Try Our Softgels Today and Wake Up Refreshed Tomorrow
You care about your health and about what you put into your body, so do we.  At Brain Body Health, we want you to feel your best; that's why we combine our knowledge of medicinal organically grown hemp, understanding of the human endocannabinoid system, and our love for natural plant-based solutions to provide you with only premium organic clean ingredients. We utilize the highest standard manufacturing methods to create our premium softgels that deliver astonishing results. Our Sleep Formula is:
U.S. grown hemp

Nano technology

Organic ingredients 

Gluten-free

Non-GMO

Third-party lab-tested
When lack of sleep is getting in the way of living fully and enjoying your life, it's time to find a solution, which is only a few clicks away. Enhance your wellness routine, order our Sleep Formula today and achieve the rest you deserve.