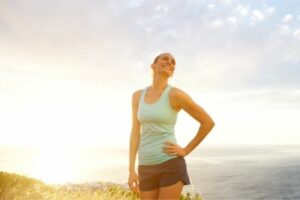 For all-natural relief, our five-ingredient CBD hemp salve is the best way to nourish your skin while reaping the penetrating benefits of our superior quality CBD. Rich with holistic, deeply hydrating natural ingredients, our unparalleled salve is so potent, a small amount is capable of delivering long-lasting benefits from head to toe.
This luxurious blend of premium ingredients is sure to promote healthy, radiant skin while delivering soothing benefits to keep your muscles and joints healthy. When you apply our hydrating CBD Salve to your body, you can enjoy the benefits of:
Organic Beeswax: This lavish and rich ingredient is known for its healing and replenishing properties. High in Vitamin A, organic beeswax is a humectant (which means it attracts water), so it simultaneously locks in moisture while promoting cell regeneration and skin health.
Organic Lavender Essential Oil: Aromatic and nourishing, relaxation-evoking lavender can help soothe skin while also acting as an anti-aging ingredient, making skin more youthful and supple.
Organic Eucalyptus Essential Oil: Eucalyptus is known as a powerful antioxidant. It not only offers an aroma believed to enhance mental clarity, but it provides dynamic benefits to the skin's surface. This powerful oil protects the skin from environmental damage and soothes irritated, uncomfortable areas of the body too.
Premium Grade Phytocannabinoid-Rich Hemp Extract: The true star of the product, our phytocannabinoid-rich hemp extract, features a perfect blend of hemp-derived cannabinoids, purified to encourage maximum potency. Then, using nanoemulsion technology, the particles are made into a smaller, more absorbable size so they can penetrate the skin more deeply and effectively to deliver faster, more effective results. Of course, our first-rate hemp extract contains zero detectable traces of THC.
In addition to those four holistic and natural ingredients, our salve contains organic MCT oil. Another natural ingredient, organic MCT oil is derived from coconut and used as a carrier oil to help the potent CBD absorb properly into your body. Nearly all CBD products on the market today feature a carrier oil to help maximize absorption potential, and organic MCT oil is an excellent, premium quality option.
Helping You Feel Your Best – Head to Toe
There are numerous advantages to using Brain Body Health LLC's CBD Salve each day. With this dynamic and easy-to-use product, you can finally take control of physical discomfort caused by overactivity, repetitive motion, and more. Using natural and potent ingredients, you can soothe your most tender and bothersome spots directly. Target specific muscles and joints with this gentle yet effective salve, expediting your recovery time so you can get back to enjoying life without discomfort! With repeated use, you will begin to feel more youthful and agile, and your physical body won't hold you back from savoring all of the adventures that await each day.
Combining Products For Multiplied Benefits
For a more thorough wellness experience, you may want to consider combining products to enhance your results! Because CBD is available in many unique product types, CBD experts have found that when you combine an orally administered product (like a CBD Oil Tincture or a CBD Gummy) with a powerful topical like our CBD Salve cream, you can experience a well-rounded, dynamic series of benefits at once!
With so many ways to enjoy our broad-spectrum CBD, now is the perfect time to place your order and see what you've been missing!